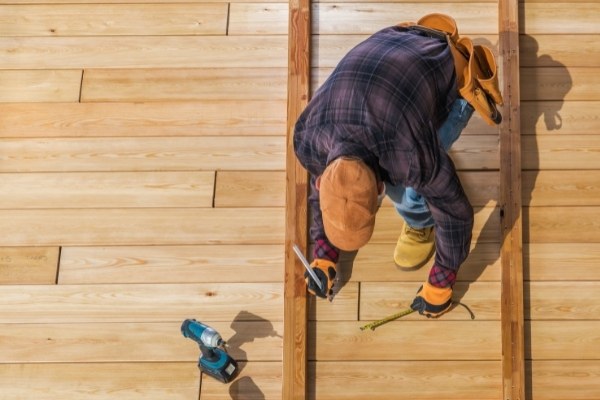 09 Dec

5 Tips To Get Your Home Ready For Summer

Before you bust out the sunscreen or dust off the BBQ, you'll want to get your home ready for summer. From essential maintenance to a cosmetic spruce-up, we've compiled a list of tasks to help you get your home summer-ready.
Clean decking and patio areas
Your deck and outside patio areas need to be cleaned at least once a year. While it's dry and relatively warm, use a deck-cleaning solution with a roller or sprayer to kill mould and bacteria that has built up over the cold, wet winter months. Power washers and high pressure hoses are a quick and easy way to clear residue, but a garden hose with a hard-streaming nozzle will work just as well. For tougher stains and resistant mould, use a wire brush or a stiff broom and a little elbow grease!
Stain and seal decking
A well-maintained deck not only looks great – it lasts longer, too. Which is why decks should be re-stained and sealed every two to three years. As a general rule, wait 48 hours to allow your newly washed deck to dry completely. Then apply a new coat of stain and seal your decking for long-lasting durability.
Update outdoor entertainment spaces
Pools and water features are popular in New Zealand, not only as fun for the kids but also to revamp an otherwise unused space outdoors. And if an outdoor kitchen is on your wish list this summer, it's a good time to start designing and creating a space that seamlessly flows from your indoor kitchen. Depending on the scale of your project and your aspirations, the team at Max Loans can assist with a personal loan – a home improvement loan to help cover your renovation project. Get in touch with us to find out if personal loans NZ are right for you. And it's also a good idea to check with your house insurance provider or Insurance Adviser and see if any additional cover is needed before you start the work. Once your renovations are done, you may also need to update your house insurance if renovation changes the value of your house. Your home is likely one of your largest financial investments, so it makes sense to insure it correctly. Talk to one of our experienced Insurance Advisers at Max Insurances to help ensure your cover meets your needs and is up to date! You can also find out what changes to your home could affect your house insurance in this insurance blog.
Tidy the garden and get planting
Summer is the ideal time to get out into the garden and start tidying up. Clear dead leaves from flower beds, weed the veg patch or raised beds, mow the grass and mulch. Check irrigation systems and hoses for leaks or blocked nozzles, and water plants in the early morning at least once a week. Consider giving plants a nutrient boost too and be on the lookout for those pesky pests like snails and slugs. If your garden is small – or non-existent – brighten up your kitchen windowsill with a herb garden instead.
Clean windows and door frames
Washing windows on a cloudy day will help prevent streaks. And while you're washing, take a look at how your windows have fared during winter. Check for signs of dry rot or water damage, appraise seals around windows and re-caulk if needed, replace damaged weather stripping and repair any other damage to windows or frames.
Inspect the roof and clear gutters
A quick check over your roof and the exterior of your home could reveal minor problems that might have started over the wetter winter months. Get these repaired before they become major issues. Check for cracks in roof tiles, inspect the joints between bricks or weatherboard to ensure there's been no weather damage. And clear out the dead leaves and other debris from gutters to ensure these don't get blocked and cause damage to the exterior of your home.
Install insulation
Enjoy significant savings on power bills and a more comfortable home year-round by installing quality insulation in floors, walls and ceiling. Many of the homes in New Zealand aren't fitted with adequate insulation – or any insulation for that matter! And with around a third of heating lost through the roof, a quarter through the walls, and up to a third through the floor, installing insulation will bring your home up to date and ensure a warmer, drier home in winter, and a cooler home in summer. Talk to Max Loans about a home improvement loan to help cover the cost of insulation installation.
Why wait? Get summer-ready with a home improvement loan
Dreaming of an updated entertainment space or a spa pool? Planning a home renovation but just don't have the funds saved up to kick-start your project? Consider a home improvement loan from Max Loans and make your dreams a reality! Alternatively, if you wish to roll your renovation costs into your home loan, our Mortgage Advisers at Max Mortgages can work with you to ensure you fully understand your options, and your needs and objectives are met. Get in touch with us today to find out what we can do for you specifically!
Apply Now
Find this article helpful? Don't forget to like it or share it on Facebook.