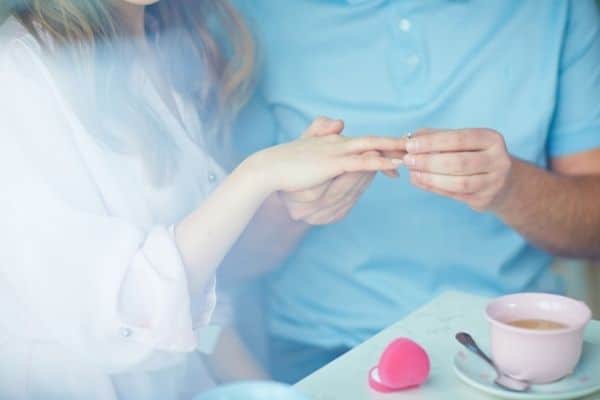 11 Feb

4 Important Money Questions To Ask Before Getting Married

When it comes to wedding planning, honeymoons and marriage, finance isn't the most romantic topic. But it is an important one. Money is often one of the biggest stressors in a relationship, which is why a healthy conversation about finance is so important. The way you as a couple approach your financial situation is a good indicator of the strength of your marriage. So before you tie the knot, here are 4 questions to ask each other as you prepare to get married.
1. Will we merge our finances?
A logical place to begin a conversation about finances is with the topic of bank accounts. Deciding whether to combine bank accounts into a joint bank account or to keep them separate is a personal decision, and each of these choices has its pros and cons.
A joint bank account means there are no money secrets and that communication about finances is open and transparent. But it can take some practice trusting the other person with your money and learning how to communicate about spending and saving from a joint bank account.
If the couple have completely different investment styles or vastly varying incomes, it may be simpler to maintain separate bank accounts while agreeing up front how the bills will be paid and whose income will cover which expenses. That way you can plan ahead and ensure all future financial decisions are made together.
2. What is our current financial position?
One helpful way to talk about money before you get married is to take stock of all debt and assets that each person will be bringing into the marriage. That includes things like credit card debt, personal loans, mortgages, as well as any personal savings or retirement savings. You may also want to talk about your income, the monthly expenses you're responsible for paying, and your current credit situation which could impact your partner in the future.
As uncomfortable as this topic can be, it's worth doing now to avoid any surprises later. Start by listing all of your income and expenses in a spreadsheet or by using an online app to help you track your joint finances and get a big picture view of your combined financial position. That way you can also decide together how much of your income could go towards an emergency fund, a savings fund, or paying down any debt you have.
Often this conversation goes hand in hand with a discussion around a pre-nuptial or contracting out agreement, that will record how relationship property will be split if the marriage ends. If you are considering a pre-nuptial agreement, it's worth getting advice from a lawyer.
3. What are our long-term financial goals?
Your current financial situation could look quite different in the years ahead. And, while it's impossible to predict what the future holds when it comes to your finances and lifestyle, it makes sense to set a few long-term financial goals to work towards. Here are some long-term finance goals that you may like to think about together:
Buying a first home together: from saving a deposit and getting home loan pre-approval, to finding the right property and moving in, set savings goals together to help you achieve your dream of owning your own home.
Clearing high interest debt and getting debt-free faster: starting a marriage with the stress of debt hanging over you can place pressure on your relationship. Decide how you'll clear your debt and take back control of your financial future.
Managing finances in an emergency: when things go wrong and you need cash in a hurry – to pay for a new washing machine, unexpected medical expenses, or urgent house repairs – have a plan in place around how you'll manage emergency financial situations.
4. How will we pay for our wedding?
While in the past it may have been traditional for a bride or her parents to finance a wedding, these days things are a little different. Most modern couples spend their own savings or finance the wedding with wedding loans, getting very little help from family. Often the cost of the wedding is the first big expense the couple face together. And how much to spend and how to pay for the wedding are two important financial decisions the couple will need to make.
Whether you're paying for the wedding yourself, getting help from family, or considering wedding loans to finance the big day, planning a wedding budget could help stay you on top of spiralling costs and ensure you're both in agreement when it comes to how much you have to spend.
Talk finances before saying "I do"
It's not uncommon for couples to disagree about finances and financial conflict can impact many marriages at some point in time. Start your life together on the right foot by asking the important questions about money, and aligning your future financial goals. If you're worried about financing your dream wedding, we can assist with a wedding loan to help ease the pressure and take care of all wedding related costs. With years of experience and access to an extensive panel of lenders, we can source some of the most competitive loans NZ wide. Give us a call on 0800 ASK MAX (0800 275 629) today to discuss your needs and options!
Apply Now
Find this article helpful? Don't forget to like it or share it on Facebook.